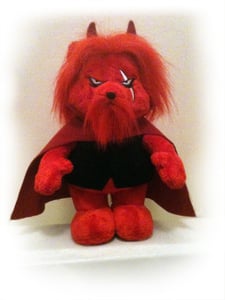 $

19.99
Hide your other plush bears: it's Bearalzebub! The Devilbear. The Plush of Darkness. The Master of Moths. The Teddy of Torment.
Wow, he needs a hug.
Bearalzebub's eyes and scar are embroidered. His vest and cape are removable and attach with Velcro.
He stands about 11" tall including his horns.
Bearalzebub is CE safety tested and made out of all new materials (polyester fiber), safe for children ages 3 and up.