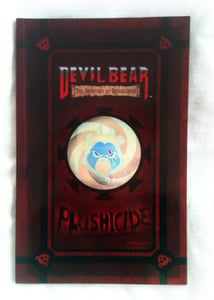 $

19.99
At long last, the first 100 pages of Devilbear collected into one hellish volume.
Remember when "Winnie the Pimp" tried to escape Hell? Or when the band members of "Smooch" sold their souls to the Devilbear so that their music wouldn't suck? Or that time when Bearalzebub had to go meet the Virtue Bears, and Ursa got free from suspended animation, and she killed all of the Poquebears?
Well now you can re-live it forever! Or even give it to a friend!
Hologram on front cover
Paperback: 108 pages, color
Dimensions: 10.1 x 6.7 inches